Mercedes Benz W201 Air Ride Kit
$

42,069.69 Sold Out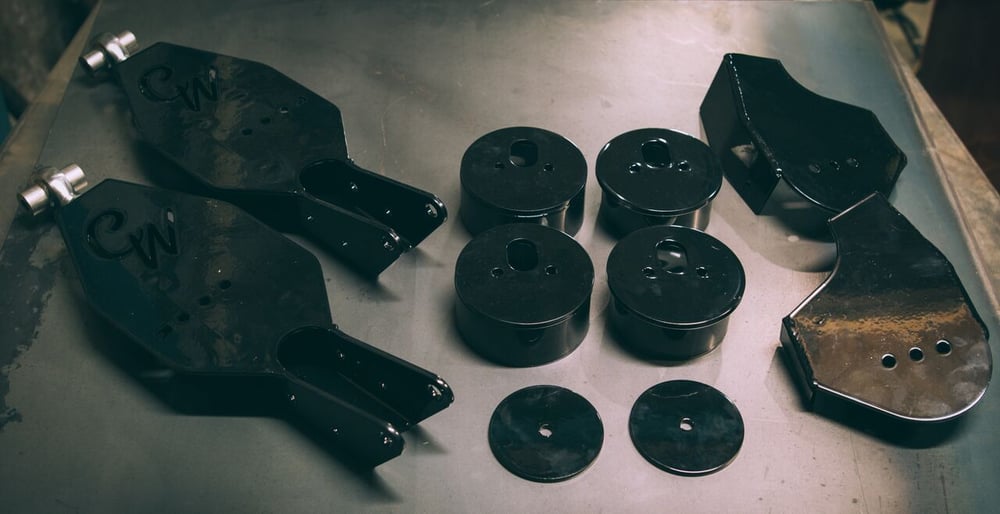 WE HAVE MOVED PURCHASE THESE AT
https://commonwealthchassisworks.com/collections/frontpage/products/commonwealth-mercedes-benz-w201-air-ride-kit
We are proud to announce that our version 2 air ride kit has finally arrived for the W201/W124 chassis. Our previous bag bracket kit left room for improvement and we listened to what you had to say to make our product even better. We have focused on superior bag placement and angle.
With the previous kit the front air bags had issues at full drop that caused the bag to curl over itself due to too much inward angle. We have created an all new lower bag plate that is bolted to your stock control arm keeping the top and bottom of the bag parallel when fully dropped.
In the rear some customers had issues with air bags being too close for comfort with the axle shafts. We have ditched the lower bag brackets and will now be providing an all new fabricated lower control arm with integrated bag mounts and BADASS 3/4" adjustable chromoly heim joints for up to 5 degrees of camber adjustment. This new design will place the air bag 3/4" further from the axle shaft than the previous design, leaving about 1" of space between bag and axle. To make these arms even better we have designed them to allow 1.5" more drop at the spindle. You will be able to run stock rear struts and sit lower than before.
The front and rear upper brackets have remained the same from the previous design. If you currently have our version 1 kit we will gladly give you a discount when upgrading to version 2 as you can re-use the upper bag cups. Please email us in this case!
All parts are fabricated in house using 3/16" and 1/4" cold rolled steel and welded by our certified welder.
All fabricated parts hold a lifetime warranty! If you can break it (You wont!) we'll replace it.
The full kit includes:
- Front and rear upper bag cups for W201
- Front lower bag plate
- Fabricated camber adjustable rear control arms
- Mounting hardware
ALL KITS WILL COME POWDER COATED GLOSS BLACK
In addition to our kits we have options to add the needed Slam Specialties SS-5 bags and management that you require to complete this install.
*This kit is able to be installed by a competent automotive hobbyist in a matter of a few hours with minimal hand tools, but is recommended to be installed by a professional mechanic to ensure safe installation
*Drilling a small hole in the front lower control arms is recommended to keep front bag plate secure. Drilling a hole in the rear upper spring pocket is required for air line to access the bag
*We ship worldwide. If your country is not listed please email for a quote
Share